Stein-Man Webshop is visited from Stein lovers from all parts of the Globe, customers from Australia, Hong Kong, North and South Africa, Europe, Canada and the USA make it the ideal platform for the trading and presentation of German Beer Stein items.

Do you wish to sell any of your Beer Steins or a whole Beer Stein collection? then why not post them in Stein-Man Webshop?

You can advertise your items FREE for a full 12 Months on Stein-Man webshop, please note that for you there are no hidden extra costs and if somebody is interested in your offer, he will simply get in touch with you personally through your stated email address.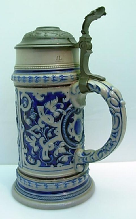 Send me a email (willis@stein-man.de) with a good quality photo and information (price) of the item(s). Please include a email address so that potentional buyers can get personally in contact with you.

If everything is okay I will then send you a confirmation.

I will then post your Item(s).

I do not take any responsibility for any items sold in this way over my Webshop.


Are you interested? then take the following steps: