Annual Limited Editions

King Annual Limited Editions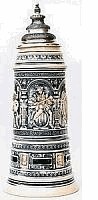 Since the year 2000 - King-Werk have produced for every year one of these rare limited edition beer steins. Each of these collectors pieces are modelled after authentic historical Marzi & Remy mother molds from the archives of King-Werk in Höhr-Grenzhausen. The series represents Westerwald steinmaking during the so called "golden age" which spanned the late 19th and early 20th centuries in Höhr-Grenzhausen. Two classical designs are available, the handpainted version or the antique style version. Solid high grade pewter facon style lids are used for the special lid attachments The King Limität beer steins are issued as annual limited Editions with 2500 pieces worldwide and are individually hand numbered. Each stein is shipped with a certificate of authenticity and a printed detail of the personality or story featured on the stein. The additional option of the wooden presentation box with wood shavings completes the package.

The 2000 Annual Limited Edition pictured left has reached the last limitation number and is no lomger available.

---
Webshop listed prices include the EURO V.A.T. of 19%. Non EU customers will have the EURO V.A.T. deducted upon checkout.
Show 1 to 32 (from a total of 32 products)