King Deutschland Steins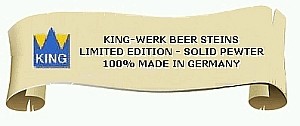 The KING-Collection of Old German, Bavarian, Austrian and Tyrolian Steins, Tankards and Mugs offers you a choice of the most original and skillfully designed products available.
The trademark KING guarantees the most authentic quality to all friends of genuinely handcrafted and handpainted German Beer Steins.






Webshop listed prices include the EURO V.A.T. of 19%. Non EU customers will have the EURO V.A.T. deducted upon checkout.
---
Show 1 to 18 (from a total of 18 products)