Stein-Man's Best Seller!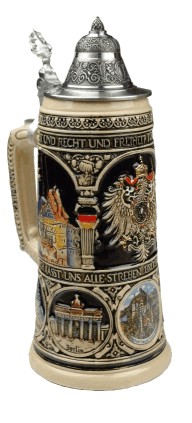 The best selling item in Stein-Man's Webshop!
Webshop listed prices include the EURO V.A.T. of 19%. Non EU customers will have the EURO V.A.T. deducted upon checkout.
King Old Style Heritage Deutschland Stein, handpainted, 0,75 Liter, German national hymn lyrics on upper and lower rim, front badge Neuschwanstein, pointed solid pewter lid, Limited Edition 10.000, available in different glaze styles.
Webshop link to product, please click here....
Below you can view other popular items from the Stein-Man webshop listings.
Show 1 to 8 (from a total of 8 products)