Merkelbach Art Nouveau

Merkelbach Art Nouveau Series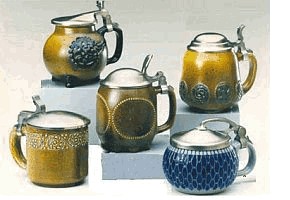 Merkelbach was famous for its Art Nouveau steins and pitchers, the production started in 1845 and ended in 2007. Merkelbach was the most modern stoneware company in terms of design especially during the period of 1905 - 1910. Through this period Merkebach employed the most famous modern artists and art professors that worked with the Art Nouveau-Jugendstil style - Richard Riemerschmid, Paul Wynand, K.Goerig are just a few examples of the famous names that worked on the designs of Merkelbach. The ceramic pieces from this era are the best examples of new esthetics that emerged to replace the so-called Historismus style that had reigned in Höhr-Grenzhausen for almost half a century. The famous "Merkelbach look" of grey salt glazed stoneware with the typical "Braun geflammt" and "Kölnisch braun" (Cologne brown) colored glazes became the signature look of Merkelbach stoneware and was used exclusively by all Merkelbach designers. The unique massive pewter lids where designed specifically for these articles and belonged to the best pewter attachments available in Höhr-Grenzhausen.


Today the Merkelbach stoneware from this period are very expensive amongst collectors - they are featured in many books on Jugendstil ceramics and are also proudly exibited by many ceramic art museums.

The company Girmscheid in Höhr-Grenzhausen was established from Matthias Girmscheid in 1884 and took over the production of the series in 2007 after the close down of Merkelbach, using original Merkelbach body form molds, pewter attachment casts and the same salt glaze firing process, Girmscheid carries on with the tradition of this unique Limited Edition stoneware.
Show 1 to 8 (from a total of 36 products)